To the North are the East Himalayas as a natural backdrop. A vast texture of dense forests teeming with wildlife, unending tea gardens, babbling rivers, interspersed with sleepy or busy settlements, constitute this fascinating tourists destination The Dooars where nature has kept her doors wide open . Here lie abundantly splendid gifts of nature and enormous resources for eco-tourism. The total area of Dooars is 4750 square kms. Tea and Timber is the main product of Dooars. The Dooars valley stretching from river Teesta on the West to River Sankosh on the East over a span of 130 kms. By 40 kms., from major part of Jalpaiguri district. The dense natural forests interwoven with lush green tea gardens are cries-crossed by Teesta, Raidak, Torsha, Jaldhaka, Kaljani and other rivers and this innumerable tributaries trotting and rolling down from the hills.
Parks & Sanctuaries
Jaldapara Wild Life Sanctuary
Situated in Alipurduar Sub-Division of Jalpaiguri District is about 130 kms. From Siliguri. The sanctuary was constituted is about in the year 1941 for the protection of Wildlife , particularly one horned Rhinos, an animal threatened with extinction.
River Torsha runs through the Sanctuary and the forest is mainly savannah covered with tall elephant grasses. The wildlife, in addition to one horned Rhinos,consists of Royal Bengal Tigers, Wild Elephant, Deer, Sambhar, Barking Deer, Spotted Dear and Hog Deer, Wild Pig, Bisons and a number of Birds peafowls. Elephant ride or Jeep Safari is arranged for viewing of wildlife preferable and dawn.
Garumara National Park
Garumara National Park ( 75 kms. From Siliguri ) and Chapramari Forest ( 68 kms. From Siliguri ). Forest Department Bunglows are there , besides this there have private accommodation nearby the forests . Day visitors are allowed to visit both the sanctuaries by getting day visit permit .
Chapramari Wild Life Sanctuary
Situated at a distance of 15 kms. From Malbazaron N.H.31. Accomodation at the forest lodge available .
Kunjanagar Eco-Tourism Park
30 kms. From Jaldapara, special features Deer Park, Gharial Rehabilitation centre, Watch Tower for observing wild animals, children park, bridge on the river Hollong .
South Kharibari Leopard Rehabilation Centre
10 kms. From Jaldapara, special features Boating, Car Safari in the Kingdom of Leopards, Children Park & Picnic Spot.
Buxa Fort : 80 kms. From Jaldapara,a detention centre next to Andaman Cellular Jail, here the history whispers & the air hums "Vande Mataram" Built by British regime for our great Freedom Fighters, it is virtually a Trekkers Paradise . Situated at the top of the hills surrounded with deep orange and pine forest.
Jayanti
72 kms. From Jaldapara , A lovely place in the valley of Jayanti river under Buxa Tiger Resorve Forest. Watch Tower, Mahakal Cave , Pukuria etc. Toto Para : 22 kms. From Jaldapara, a small village on the bank of River Torsha near Bhutan Border, famous of the dooars aboriginals- the Totos.
Chilapata Forest
Chilapata Forest
20 kms. From Alipurduar, is a pleasant and exciting experience. The ruins of the fort named Nalrajar Garh dating to the Gupta Age (4th to 6th Century A.D.) Hidden in the Chilapata Forest make it an attractive destination .
Bhutan Ghat
Well known as natural beauties, Ridak river bed , Hanging Bridge , Orange wholesale market etc.
Rajabhat Khawa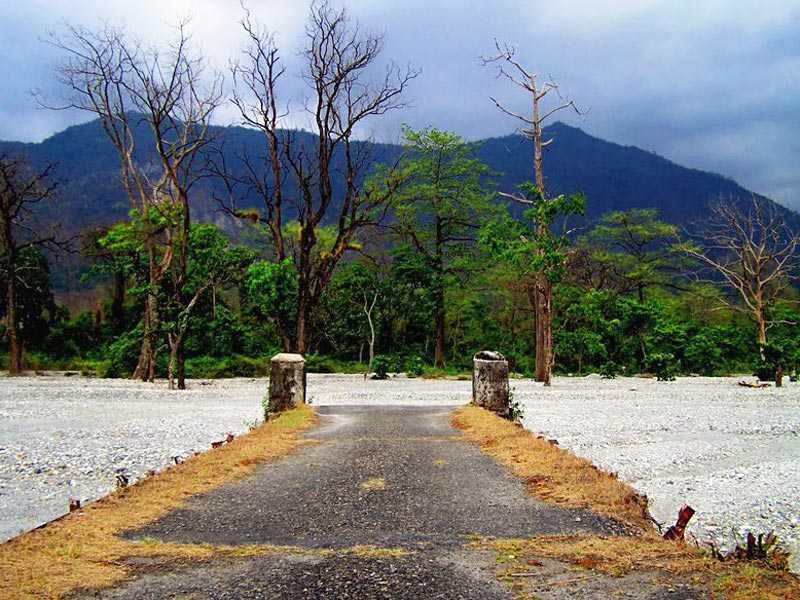 65 kms. From Jaldapara , AnimalNature Interpretation centre, wildlife museum & natural beauties .
Buxa Tiger Reserve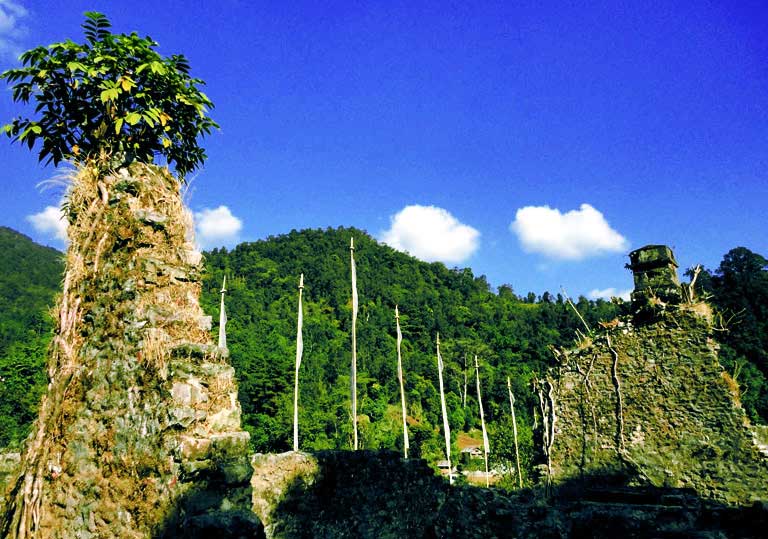 175 kms from Siliguri The name "BUXA TIGER" has been derived from Buxa fort, which once used for detenues during freedom movement of India. This Tiger Reserve comprises the forest area of Rajabhatkhawa, Nimati, Barobisha, Rydak, Raimatang, Jainti, Buxaduar and Bhutanghat. The main rivers are Sankosh, Raidak, Jayanti, Churni, Turturi, Phashkhawa, Dima and Nonai. Area of the Tiger Reserve is 759 sq kms with a core area of 331 sq kms. Buxa Reserve was set in the year 1982-83, which later in 1992, January, was declared a National Park.
Coochbehar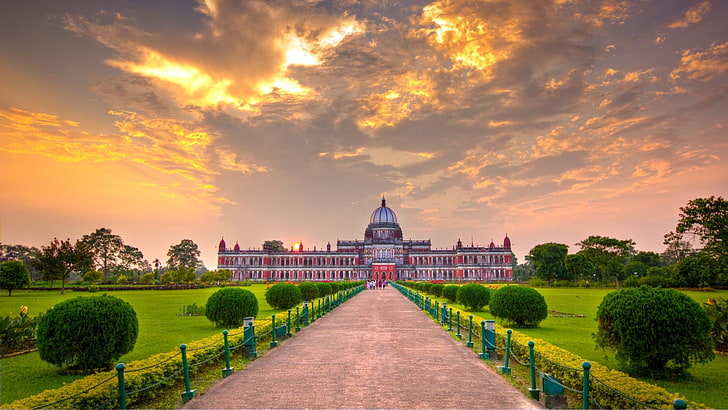 Cooch Behar is reminiscent of the Koch Maharajas who had reigned the sovereign state for more than 400 years . Even Bhutan came under their rule for some time. The sovereign state become a district of Independent India in 1949. It is a beautiful planned town with wide avenues bearing testimony to history and numerous heritages all around . The major tourist attractions of Cooch Beher are The Coochbeher Palace ,Madanmohan Temple, Sagardighi, Gosanimari Temple, Rasik Bil, Baneswar Temple etc.
Lataguri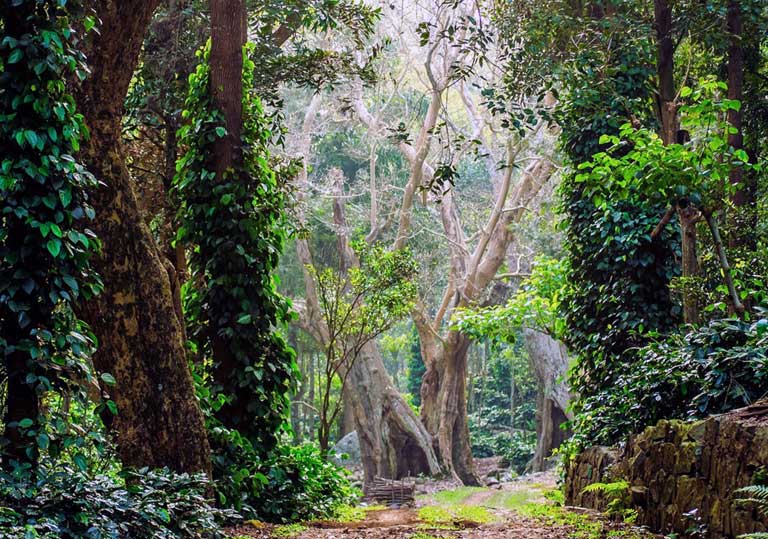 Lataguri is a quaint settlement located just outside Gorumara National Park on National Highway no.31. It is considered as the entry point to the Gorumara Park. Lata guri is situated 30km from Jalpaiguri Town Station, 75km from New Jalpaiguri Railway Station and 95km from Bagdogra Airport. Lataguri has become famous as the base to explore the Gorumara National Park. Many serene river streams like Murti, Jaldhaka and Torsha flow through through this verdant national park of Gorumara.
Today large number of tourist has come up all around the forest including Murti, Ramsai and other area. This place is imprinted with beauty and charm. The reserved forest permits for entering Gorumara and Chapramari wildlife sanctuary are given from Lataguri.
Jaldapara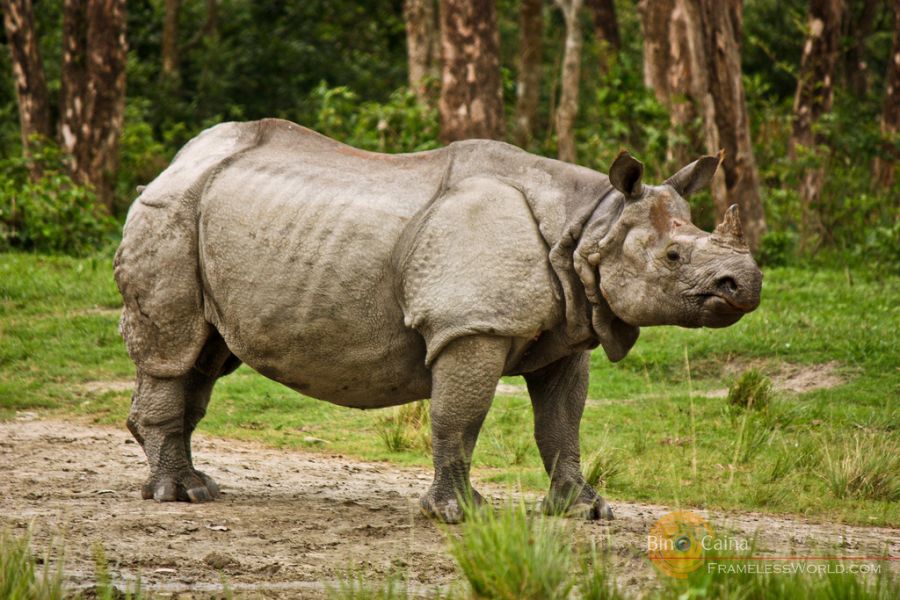 Jaldapara National Park is a national park situated at the foothills of Eastern Himalayas in Aipurduar Sub-Division of Jalpaiguri district in the West Bengal on the bank of river Torsha. Jaldapara is situated at an altitude of 61m. and is spread across 216.51 km of vast grassland with patches of riverline forest.The Jaldapara Sanctuary covers 216 sq km, is a mosaic of woods, grasslands, streams,sandy river. There are riding elephants available in the preserve. It has the largest population of the "Indian One-Horned Rhinoceros" in the state, an animal threatened with extinction area.
The nearby chilapata forests is an elephant corridor between Jaldapara and the Buxa for Tiger reserved.