Gangtok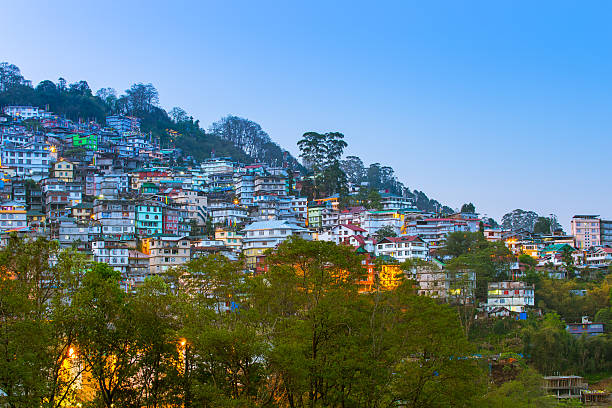 Stradding a ridge, Gangtok has a cosmopolitan flavour with a lively mix of cultures and has under gone rapid modernization in the last two decades or so. Being the capital of a state, Gangtok contains all modern facilities. There are good schools, a railay outagency, an Indian Airlines Counter, Cinema halls, a well-equiped hospital, fast food centres and telephone booths far making outstation calls and sending faxes & e-mail.
With expansion, Gangtok town is literally spilling downwards with huge buildings precariously clinging to the hillside. It is infact becoming a concrete jungle with trees vying for space in the town area. Big hoardings advertise products.A banner elsewhere trumpets the opening of an Internet Café and group Green Circle exhorts the public not to use plastic carry bags and keep Gangtok clean .
Pelling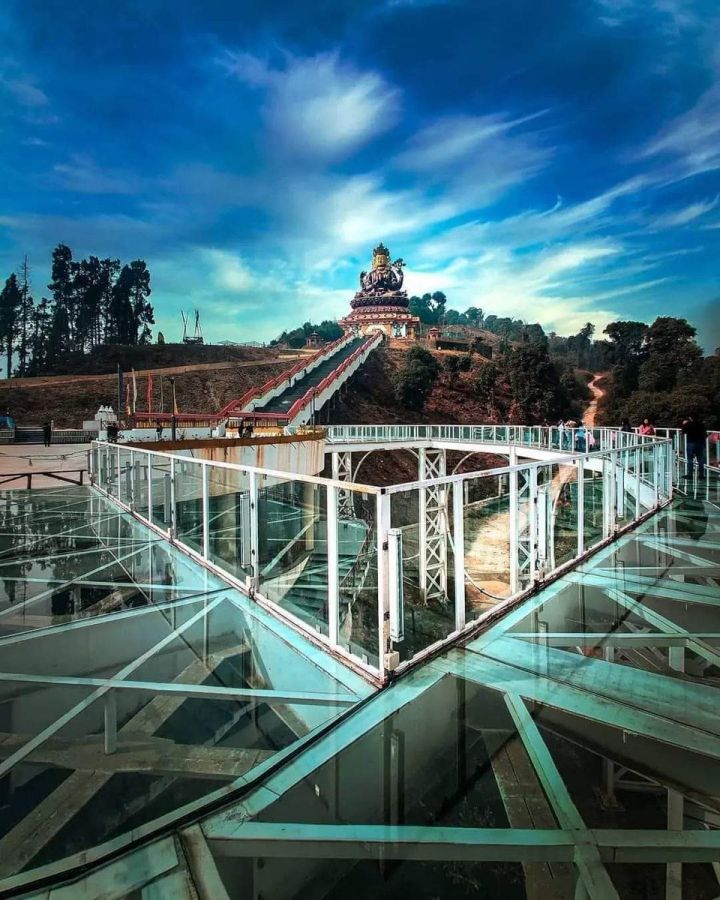 Pelling is fast growing to be an urban settlement due to tourist influx . Situated at an altitude of 6800 ft., It offers a good view of the entire mountain ranges and due to this location advantages, many hotel & lodges have mushroomed in and around in and around Pelling offering various categories of accommodation facilities.
Lachung and yumthung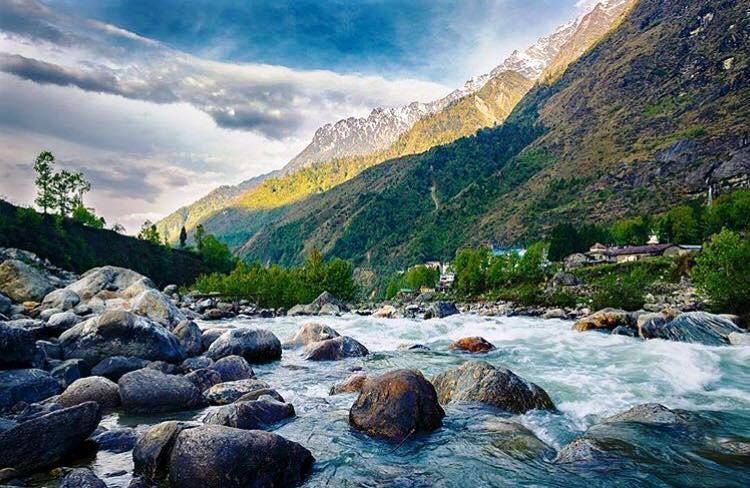 Lachung (8,858 ft.) is a mountain village close tothe tibetian border, in the northeastern Indian state of Sikkim. Gangtok to Lachung distance aprox 4hrs 30 min. The valley also known for its waterfalls, pine forests and hot springs.Yumthang at an elevation of 11800 ft. and 140 kms. From Gangtok, is a paradise for nature lovers with fascinating blend of flora and fauna and breathtaking scenic grandeur . The vally is also the home for Shingbha Rhododendron Sanctuary with 24 species of Rhododendron. Yumthang "Tsa-Chu" or the hot spring on the left bank of Lachung-Chu is immensely popular for its curative properties and healing power.
Lachen and Gurudongmar lake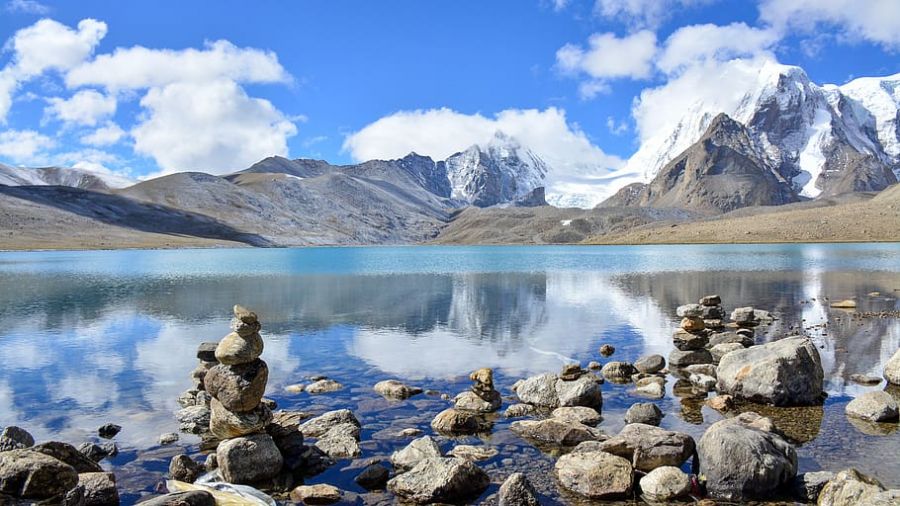 Lachen(9,800 ft) is a town in mangan district in the india state of Sikkim. It is located at an elevation of 2,750 meters. The name Lachen means "big pass". Gangtok to Lachen's distance aprox 4hrs and 30 min.Gurudongmar lake(17000 ft) one of the most beautiful, pristine lakes in Sikkim, this lake sits in close proximity to the Tibetan and Chinese border in the north. Its takes time to reach gangtok to gurudongmar lake aprox 7 hrs. for entarance you need entry permit and for this you have to bring 2 copy passport size photo, voter id/ passport/ driving lisence.
Babamandir, Changulake & Nathulapass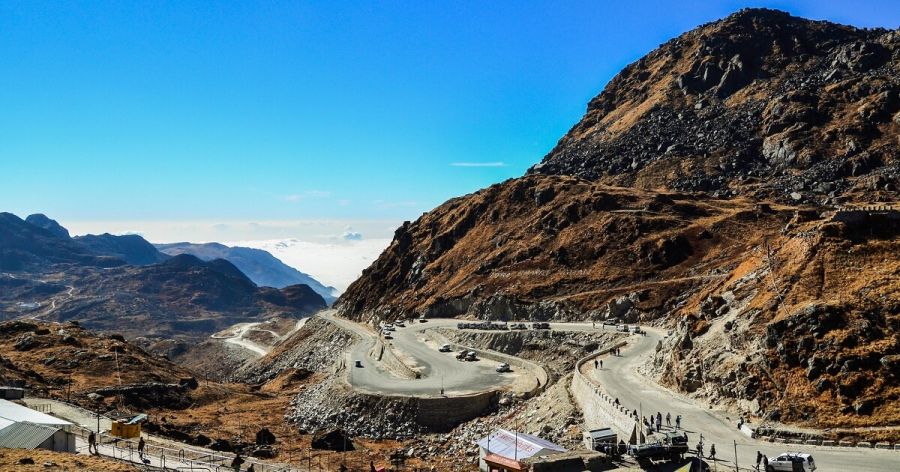 Baba Harbhajan Singh (13,123 ft.) is popularly known as Baba Mandir.One usually covers this temple along with a visit to Tsongmo Lake and Nathula Pass. Gangtok to Baba mandir distance aprox 2 hr. Tshangu lake (12,313 ft.) is a glacial lake in the East Sikkim, some 40 killometers from Gangtok, aprox it takes 1 hr 30 min. The lake surface reflects different colours with change of season. Nathula(14,140 ft.)is one of the motorable roads in the world. Gangtok to Nathula's distance aprox 2 hr. Nathula pass is closed on mondayand tuesdat. Visiting start these 3 spots 8 am to 5pm. When you supposed to cheek in gangtok then you need permit and for permit we want voter id/ passport/ driving license and 2 copy passport size photo, what it make a peaceful journey.
The silk route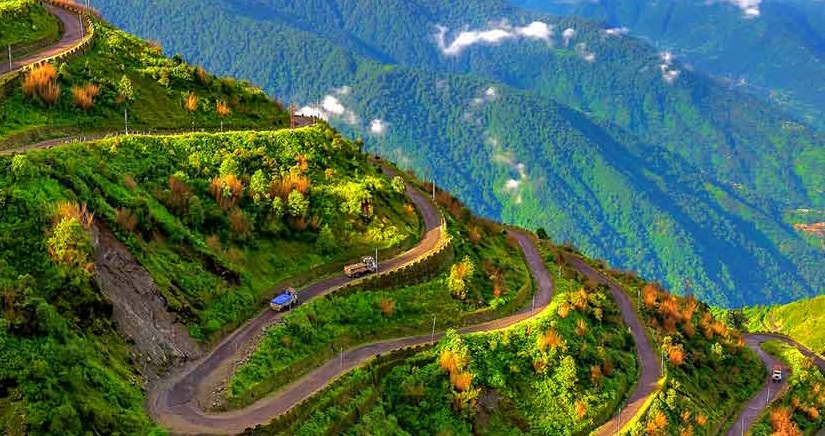 The silk route(17,800 ft.) off 900 km was considered ans still is the most hostile one. Gangtok to silk route distance aprox 4 hrs. Sikkim silk route is one of the most famous attractions in East sikkim. Zuluk was once an important stop on the ancident silk road. Today Sikkim Silk Route is known for its clear and gorgeous views of the mountains, the dizzying Zig-Zag roads and hairpin bends and quaint villages on the route.
Namchi and Ravangla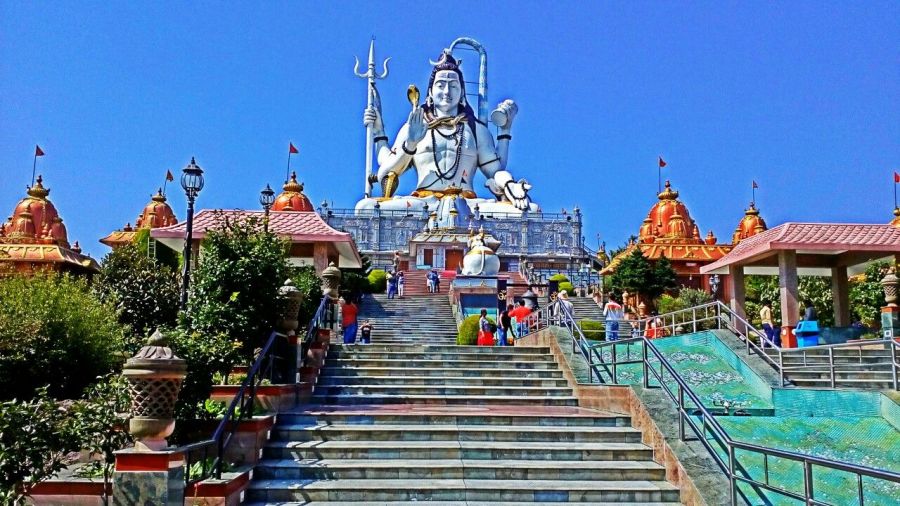 Namchi(5500 ft.) is situated at an altitude of 1,675 mtr of above sea level. It is situated at a distance of 78 kilometers from the stste capital Gangtok and 100 kilometers from the town of Siliguri, the nearest railhead or airport it takes aprox 3hrs 30 min one of the famous tempal "CHARDHAM TEMPLE" is located in namchi. Ravangla(8000 ft.) is a small tourist town which is located in the south Sikkim. It is connected by state highway to other major towns in the state and lies between Pelling and Gangtok. Gangtok to Ravangla's distance aprox 3hrs and 30 min. Ravangla is known for the very popular and holy "BUDDHA TEMPLE".